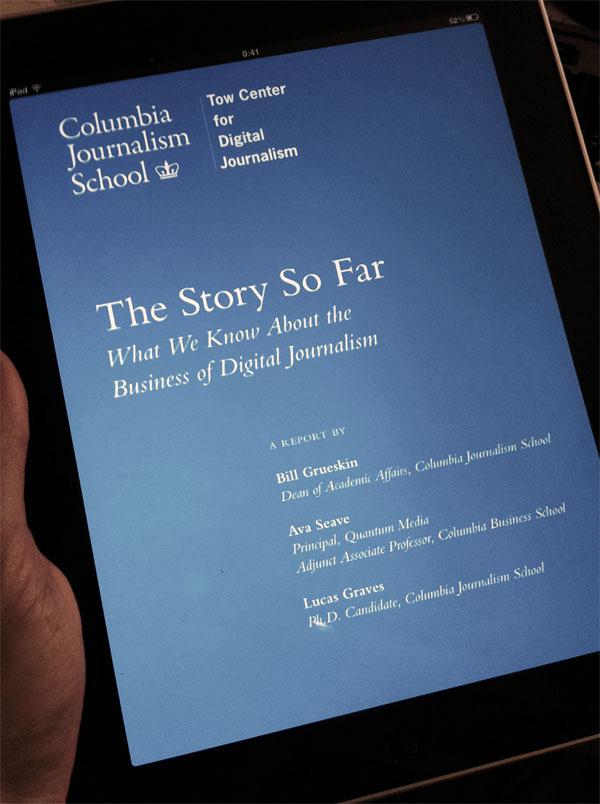 Αν έψαχνες κάτι ελαφρύ για το Σαββατοκύριακο, ορίστε: Μια μελέτη του Πανεπιστημίου Columbia για την κατάσταση της ψηφιακής δημοσιογραφίας, με έμφαση στο πώς μπορείς να βγάλεις λεφτά δημοσιογραφώντας σήμερα. Γράφουνε και οι NYT ένα ρεζουμέ:
"Many sectors of the traditional news industry have been slow to embrace changes brought on by digital technology," it states, before recommending a "faster and more consistent pace of innovation and investment."

It also recommends that journalists "gain a fuller appreciation for how advertisers now reach their customers via social media, new-media ads and search engine optimization," and that larger news organizations should consider creating or re-creating separate digital staffs, "particularly on the business side."
Είναι ένα γιγάντιο PDF 143 σελίδων που μπορείς να κατεβάσεις δωρεάν. Ξεκινάει μ' αυτή τη φανταστική ιστορία:
Few news organizations can match the setting of The Miami Herald. The paper's headquarters is perched on the edge of Biscayne Bay, offering sweeping views of the islands that buffer the city of Miami from the Atlantic Ocean. Pelicans and gulls float near the building; colorful cruise ships ply the waters a few miles away.
And Miami Herald executives long held some of the best views in the city, from the fifth floor of the company's headquarters.
Not any longer.
The Herald, like most U.S. daily newspapers, has faced severe financial troubles in recent years, suffering deep cuts in the newsroom and other departments. So, in one of many efforts to raise revenue, executives attached a billboard to the east side of the Herald building, completely obscuring the bay views of many newspaper employees, including the publisher.
The benefits of the billboard are obvious: the low six figures in annual revenue, according to a Herald executive, or enough to pay the salaries of a few junior reporters.
The irony is obvious as well, for the advertiser buying the space is Apple—the company that now controls a commerce and publishing system crucial to the future of the news business. And the product being advertised on the Herald's wall is the iPad, a device that is both disruptive and helpful to media economics.
Indeed, the two companies provide a way to see the destruction and creation in the media business over the past decade. At the end of March 2001, the stock market valued the Herald's parent company, Knight-Ridder, at almost precisely the same amount as Apple: $3.8 billion.
Ten years later, Apple's valuation is more than $300 billion. And Knight-Ridder no longer exists as an independent company.