1) Τα λιοντάρια του Σερενγκέτι 
Ένα καταπληκτικό αφιέρωμα του National Geographic με φωτογραφίες και βίντεο που έχουν τραβηχτεί από ρομπότ. Απίστευτο πράγμα, αφιέρωσέ του λίγο χρόνο.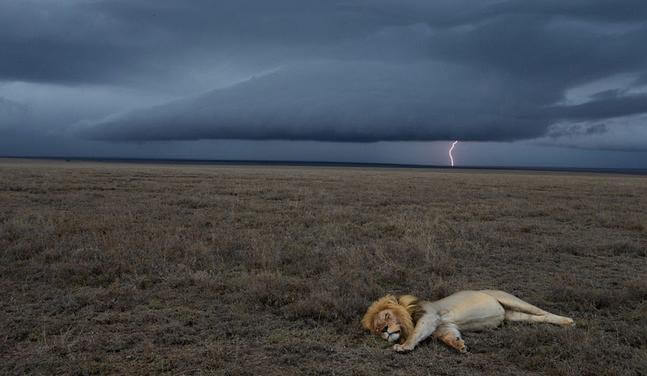 2) Ο Στίβεν Φράι καλεί σε μποϊκοτάζ των Χειμερινών Ολυμπιακών της Ρωσίας 
Άλλο ένα θαυμάσιο κείμενο: Με αφορμή το κύμα διώξεων κατά των γκέι στη Ρωσία του Πούτιν, ο Φράι γράφει μια ανοιχτή επιστολή στη ΔΟΕ και τον Ντέιβιντ Κάμερον.
For there to be a Russian Winter Olympics would stain the movement forever and wipe away any of that glory. The Five Rings would finally be forever smeared, besmirched and ruined in the eyes of the civilised world.
3) Πώς ένα φτωχό ζευγάρι συγκέντρωσε μια απίστευτη συλλογή έργων μοντέρνας τέχνης
Μια πολύ ωραία ιστορία για ένα πάθος, την τέχνη και την αγάπη.
Herb Vogel never earned more than $23,000 a year. Born and raised in Harlem, Vogel worked for the post office in Manhattan. He spent nearly 50 years living in a 450-square-foot one-bedroom apartment with his wife, Dorothy, a reference librarian at the Brooklyn Public Library. They lived frugally. They didn't travel. They ate TV dinners. Aside from a menagerie of pets, Herb and Dorothy had just one indulgence: art. But their passion for collecting turned them into unlikely celebrities, working-class heroes in a world of Manhattan elites.
"I have no regrets," Dorothy said. "I've had a wonderful life. And I believe Herb and I were made to be together."
UPDATE: Να και το τρέιλερ του ντοκιμαντέρ "Herb and Dorothy" που λέει την ιστορία τους.
4) Τα προβλήματα του ιδρυτή του Foursquare
Εδώ, η ιστορία του Foursquare και η ιστορία του ιδρυτή του, του Ντένις Κρόουλι.
If you didn't know him, you might think Crowley was experiencing an early midlife crisis. The chief executive just got his motorcycle license. Vintage snowboards line the walls of his East Village apartment. At a wedding not long ago, one friend remembers a tuxedoed Crowley sliding on his knees under the legs of his dance partner. Chalk it up to a boyish earnestness--a contagious enthusiasm that drives him to sing karaoke with coworkers into the morning hours (his poison: Guns N' Roses singles) or to organize all-day PlayStation 3 tournaments on the weekends, to the frustration of his fiancee, fashion stylist Chelsa Skees. "Dennis never stops," says Christian Bovine, a close friend. "His classic line is 'Let's just do one more.' No matter how late it is--even if we've already done six one-mores--he'll be like, 'We can do one more.'"
5) Ένα ξεκαρδιστικό review του τελευταίου βιβλίου του Νταν Μπράουν
Στην παραλία πιθανότατα θα δεις πολλά αντίτυπα του "Inferno", του τελευταίου πονήματος του συγγραφέα των ψευτο-ιστορικών ψευτο-αστυνομικών μπεστ σέλερ. Εσύ διάβασε κάτι άλλο: Αυτό το ξεκαρδιστικό review.
As well as the heroism of Robert Langdon, we must think of the heroism of Dan Brown. This is a man who started out with such a shaky grasp of the English language that he still thinks "foreboding" is an adjective meaning "ominous." I also relished "Sienna changed tacks." Read aloud, these three words would suggest that the pretty, young woman had altered her arrangement with the Internal Revenue Service. But Dan Brown has never read one of his own sentences aloud in all his life; and why, now, would he need to? He can buy and sell all the pedants in the world.